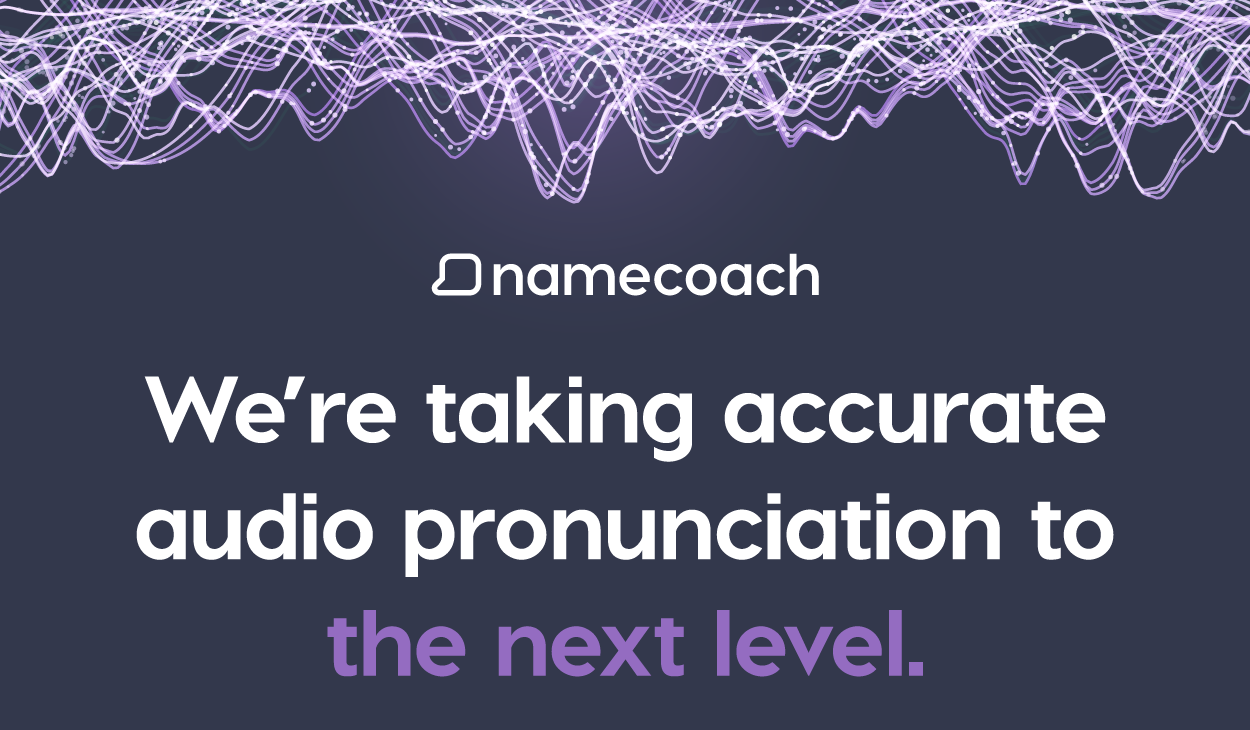 Imagine this—accurate audio name pronunciation right within your favorite platform, enabling you to communicate with confidence. Well, all of this is possible thanks to the latest update from Namecoach!
In our unwavering pursuit of innovation, we continuously seek ways to enhance our offerings and make our tool even more intuitive. We're thrilled to introduce our latest product update, catered to our Outlook and API end-point users. These updates represent a substantial leap forward in transforming the way we communicate, underlining our dedication to reshaping the dynamics of human interaction. So buckle up, because saying your name right is about to get a whole lot cooler!
The new experience
Our latest updates harness the prowess of advanced AI technologies, ushering in a new era of precise, empathetic, and all-inclusive interactions.
A step beyond spelling
Come across a name that stumps you? Our AI Pronunciation feature tackles this head-on. By tapping into a revolving set of demographic features, this innovation generates name pronunciations that go beyond spelling.
In a world with over 30 million unique names, a whopping 80% of them have multiple pronunciations. Relying solely on the spelling of names alone often leads to inaccuracies and confusion. All names hail from diverse corners of the globe, representing various heritages, and many can even vary in pronunciation based on gender. That's precisely why our solution shines.
Privacy-first pronunciation
Introducing Anonymized Pronunciation, Namecoach's cutting-edge feature that empowers you to protect your privacy while still benefiting from accurate name pronunciation.
With this capability, Namecoach can extract pronunciations from user-generated audio files and then transform your voice into an AI-generated version. This ensures that even if you prefer not to have your own voice utilized, you can still enjoy the convenience and precision of Namecoach's pronunciation assistance.
A helpful starting point 
We're all about making things easier for you. When you log into Outlook with the Namecoach add-on, we now offer a recommended pronunciation for your name right off the bat. Whether you agree with the suggestion or prefer your own touch, the choice is yours.
Guided adoption for seamless mastery 
We're making the customer experience more intuitive by highlighting all of the exciting things you can accomplish with Namecoach. Embracing new features should be exciting, not overwhelming.
To ensure a smooth user experience and empower you to make the most of these enhancements, we've included an in-app walkthrough the first time you launch. It's like having a friendly guide by your side, showing you the ropes, and making sure you're all set to dive in.
Enhance your journey 
With these updates, we're enhancing the customer experience and simplifying the process of sharing the correct pronunciation of your name. Our dedication to innovation transcends technology; it's about celebrating individual identity and nurturing connections. These enhancements stand as a testament to our unwavering pledge to meaningful interactions that honor the distinctiveness of each and every name.
To try these new updates for yourself, email [email protected] to get started!