We've had the good fortune to be on the front lines of the fight to create inclusive learning environments in higher education. But we haven't been in that fight alone. We've had the honor of working alongside a number of schools doing amazing, if sometimes unnoticed, work to improve life in the classroom and on campus for their students. Institutions like Stanford, Northwestern, and California State University-Northridge.
And Foothill College in California. Led by President Thuy Nguyen, the first Vietnamese-American college president in the country, Foothill is setting a high bar in building, supporting and advocating for its diverse community of students, staff and faculty.
Nguyen's efforts took center stage this past fall as she and her teams spoke out and initiated programs to help students navigate divisive, frightening and potentially life-changing immigration policies proposed during the presidential campaign. One of the first things Nguyen did was send a message of support to the Foothill community: "We do not need to go far, with many countries represented at Foothill, to know the preservation of democracy requires vigilance," she told them.
President Nguyen initiated a series of 'Teaching Moments' events in which students could share thoughts and inform each other on topics taking center stage nationally, and provided a powerful message of welcome and support for Dreamers in front of the student-created Dreamer's Mural.
Recognizing that for many students, something as seemingly simple as a professor pronouncing their name correctly is a welcome step in the right direction, she also helped bring NameCoach to the campus.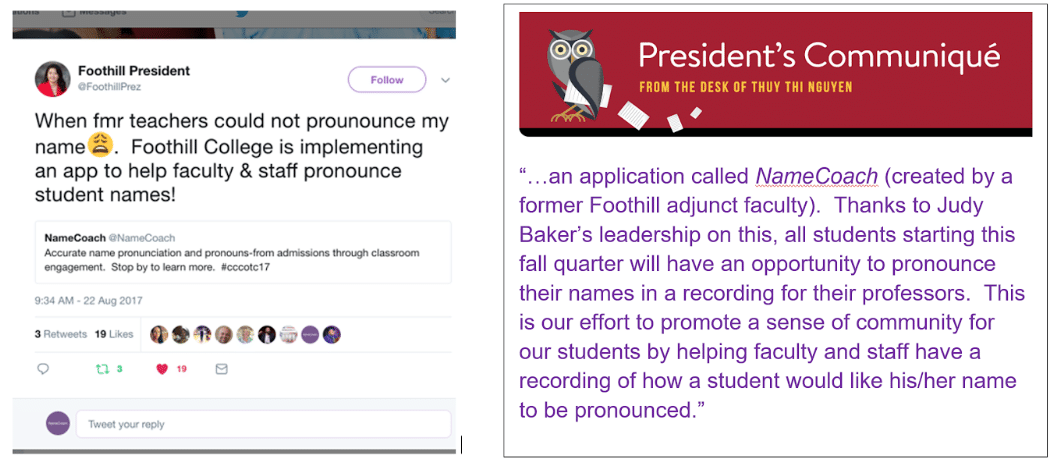 Foothill's Dean of Online Learning, Judy Baker, worked with us to lead the rollout of the NameCoach platform across the diverse Foothill community.
"Part of the Foothill College mission is to obtain equity in achievement of student outcomes for all California student populations," said Baker. "Toward that end, we believe that correct name pronunciation is one way to nurture inclusion by demonstrating respect and caring. Our students, faculty, and staff alike appreciate using NameCoach as an easy-to-use name pronunciation tool at our graduation ceremony and for classes to foster a sense of belonging and strengthen relationships."
Dean Baker, Karen Smith (Professional Development Tri-Chair), Carolyn Holcroft (Professional Development), and Lakshmi Auroprem (Senior Library Technician) also developed two Professional Development workshops for faculty and staff to discuss the importance of names in respecting cultural and personal identities, and setting up classrooms for success.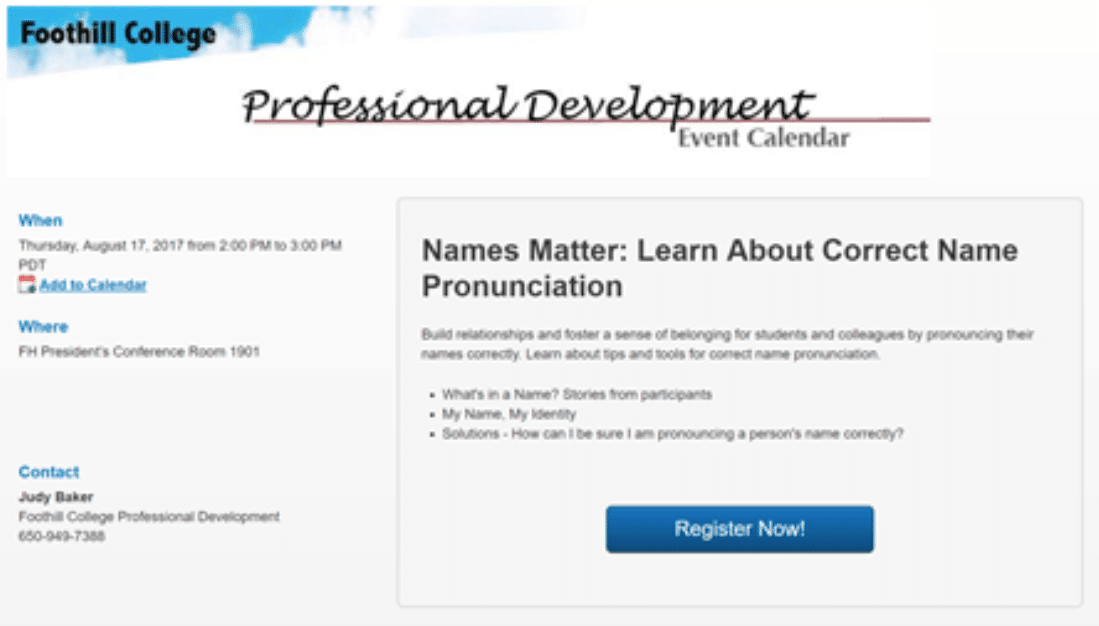 The rollout found a welcome reception among the faculty and students.
"NameCoach not only helps us in our daily work to achieve the college mission of empowering students as global citizens but also helps set the stage for faculty and students to achieve institutional student learning outcomes, specifically ensuring students are learning social perceptiveness, including respect, empathy, cultural awareness, and sensitivity," remarked Dr. Kristy Lisle, Vice President of Instruction and Institutional Research.
NameCoach is of course just one of Foothill College's many initiatives to empower students as global citizens. A particularly striking example was the Trees of Hope project led by Dr. Lisle, which elicited messages of unity and respect across the community.

Institutions like Foothill and people like Nguyen, Baker and Lisle are the kind of leaders making a significant impact not only within their own campus community, but serving as a shining light for all of us in higher education.
Feature image by Justyn Warner on Unsplash